Gaia Education awarded prestigious Luxembourg Peace Prize for global education efforts in sustainability & regeneration
Press release June 2022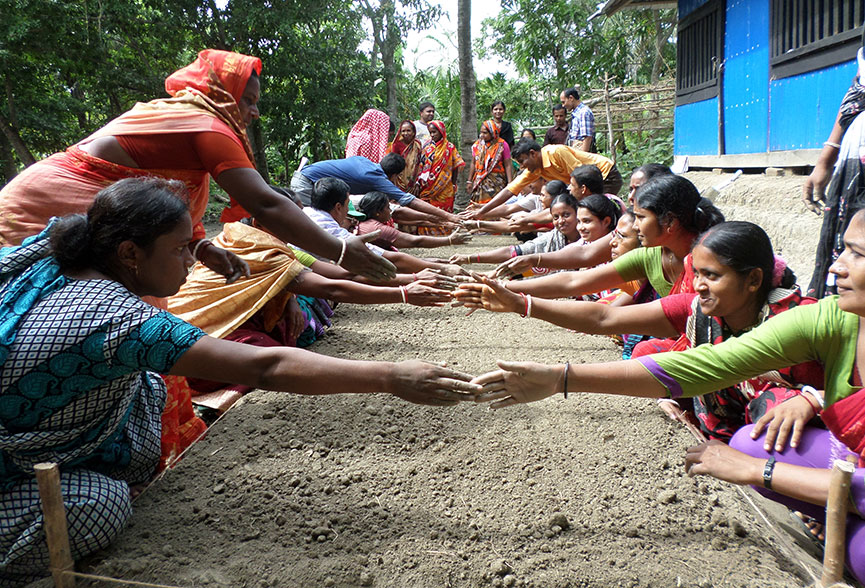 Scotland-based charity, Gaia Education will be presented with the Luxembourg Peace Prize for Education 2022 on 17th June in the Schuman Building, Luxembourg.
Gaia Education is being recognised for outstanding efforts and initiatives to promote peace.
This prestigious prize is awarded in a number of categories, including outstanding peace education, outstanding peace activist and outstanding peace support.
The Prize is awarded by the World Peace Forum and the Schengen Peace Foundation with the support of the Grand Duke of Luxembourg. 
Previous award recipients include Dr Jane Goodall, founder of the Jane Goodall Institute, Mexican artist Pedro Reyes, and poet and peace activist Thich Nhat Hanh.
Ross Jackson, Copenhagen-based convenor of Gaia Education said  "Our team and the network that supports us has worked hard over the past 15 years through our education and training to encourage communities to live more in harmony with nature, the planet and themselves, using resources equitably, responsibly and sustainably. This award recognises that work and the principles behind our curriculum, it is a tremendous honour".
Gaia Education emerged from The Global Ecovillage Network and has worked in 55 countries around the world. 
Gaia's curriculum was developed by a large group of ecovillage designers and educators from around the world, the GEESE - global ecovillage educators for a sustainable earth. Focused initially on supporting and strengthening the ecovillage movement, the curriculum increasingly resonates with communities beyond the ecovillages, 
Sally Bogale, Co-Chief Executive, resident in the Findhorn ecovillage community in the north of Scotland, said  "We have run projects and trainings with partners in Senegal, Bangladesh, Zambia Sicily, Brazil and many other countries, invariably aimed at young people. Not everyone can create or live in an ecovillage, but everyone can learn and apply the principles and practice of sustainable development and regenerative lifestyles wherever they live. Gaia Education wants to support them."
"Currently we are working on an ambitious project with African partners aimed at university students. Working with the Association of African Universities and the All Africa Students' Union, the SDG Center for Africa and leading African Universities in the field. We hope to start rolling out online induction courses in sustainable development and climate change for all African university students later in 2022. If we are successful, this project should reach 20 million students.
"The Luxembourg Peace Prize will help raise the profile of sustainable development and what Gaia Education is trying to encourage around the world."
See full details of the programme for Friday, June 17th here! Gaia Education will be accepting the award alongside; Dr Kevin Clements, Peace Barcelona 2025, Frances Haugen, Professor Scherto Gill, Nicolas Maggi Berrueta, F.C. Barcelona Foundation, Water Peace & Security & Dominicus Rohde

The awards were established by the Schengen Peace Foundation, a not-for-profit charity approved by His Royal Highness Henri the Grand Duke of Luxembourg. The Foundation contributes to the construction of a more peaceful world by promoting peace, tolerance and understanding through multicultural dialogue with the help of discussions, publications, exhibits and workshops, internet platforms, encounters, exchange and education programs as well as studies about peace.